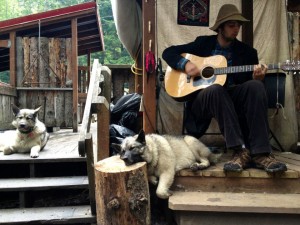 Andrew Polakow sometimes stands and sings on the streets of the coastal cities of New Hampshire, and in the cafes and venues. Hailing from Portsmouth, he was offered a full-time day job as a folk musician and vaudeville performer in Skagway, Alaska. Through all of this, Andrew busied himself with the art of recording his various styles of exponential originals.
In keeping with his sometimes stage name/other personality, Traveling Tom, he's been making music in between Alaska and Portsmouth or somewhere on the road ever since.
During Oct., 2012, Andrew released his debut album online and also an EP in December. In Jan. 2013, these were both released through Willie Cry Records.

He's also played with the local Skagway group, Windy Valley Boys, Naomi Nameless & Her Orphans, the Gardes and his own local Portsmouth cronies, People Like You.
 Check out Andrew's recent releases at: http://andrewpolakow.bandcamp.com