SPOTLIGHT on the Skagway Music Scene
by Joseph Stephenson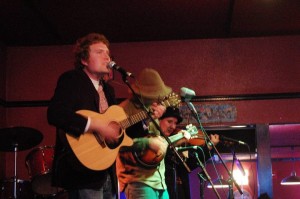 Solid Sounds from Naomi Nameless and Her Orphans
Brett Horton (acoustic guitar, lead vocals, harmonica), Andrew Polakow (mandolin, vocals) and Sue Holcomb (violin, backing vocals) emerged from their daytime Liarsville gigs to entertain the Bonanza Bar and Grill on July 3 with a mix of original songs, traditional folk songs, and covers from Woody Guthrie, Stephen Foster, Modest Mouse, the Strokes, the Violent Femmes, Cindy Lauper, and many more.
Who are your musical influences?
Andrew:  Bob Dylan, Modest Mouse, Frank Zappa, Leo Kotke, Woody Guthrie, Liarsville.
Brett:  All kinds of stuff from the Sixties.  Fifties rock.  I like folk music, anti-folk music.  Blues, Motown, I like a little bit of every type of music.
Sue:  I have a hard time answering that 'cause I'm a classically trained musician.  Tony Scott Pearce has been a big influence on me.  And Ben Brown as well as my teachers from the Boston Symphony.
Tell me about your musical backgrounds.
Sue:  I've been playing violin, since I was nine and I studied at Western Michigan and the University of Wisconsin in Milwaukee.  I've been a freelance violinist for a number of years and old time fiddling is a fairly new pursuit for me.
Brett:  I've played in different bands since I was fifteen.  I've had my own original band with friends of which our name and lineup has changed a lot, but essentially we've released a lot of music as The Gardes.  I play the guitar, the bass, keyboard, percussion, harmonica, and the accordion sometimes.
Andrew:  I've been playing guitar for twelve years.  I played the cymbals in high school band.  I worked my way up to the snare drum, so I learned all the rudiments for that.  I played bass drum in a percussion ensemble that went to the world championships for our region in Ohio of all places and we placed second in that.  So that was cool.  I learned a lot about music listening to how much rhythm is behind everything.  I played guitar in jazz band in high school and played bass in our high school production of The Phantom of the Opera.
How did Naomi Nameless and Her Orphans form?
Brett:  We formed as being the Liarsville Orchestra.
Andrew:  Me and Sue have been playing together since last year.
Sue:  Brett is the instigator.
Did you do anything totally awesome over the winter?
Brett:  I recorded an album with my band, the Gardes, which Andrew and Sue might play with some this winter.  We ended up meeting Wayne Coyne of The Flaming Lips and he invited us to come by his house.  We also went on tour up the west coast and we were just walking down Venice Beach and ended up getting on Let's Make A Deal.
The gameshow?  Did you dress up?
No, but we had a guitar and a tambourine, so we were like "hey, we're musicians let us in" and they did.
Sue:  I played some great concerts with the Claflin Hill Symphony in Milford, Massachusetts kinda near where I'm from.
What  was the last album you purchased?
Andrew: Sigur Ros.  They're an Icelandic band.
Brett:  The Shins, but I left it in my car and it melted, so I never got to listen to it.
Sue:  Lately, I'm listening to all kinds of bluegrass.
How great is playing in Skagway?
Brett: It's awesome.
Sue: Fantabulous!
Andrew: I love playing to trees in the middle of the forest.
The members of Naomi Nameless and Her Orphans play daily at Liarsville and expect to play other Skagway venues soon.  They welcome you to contact them via e-mail at williecryrecords@gmail.com for a chance to check out their albums or for any opportunities to play music in Skagway.